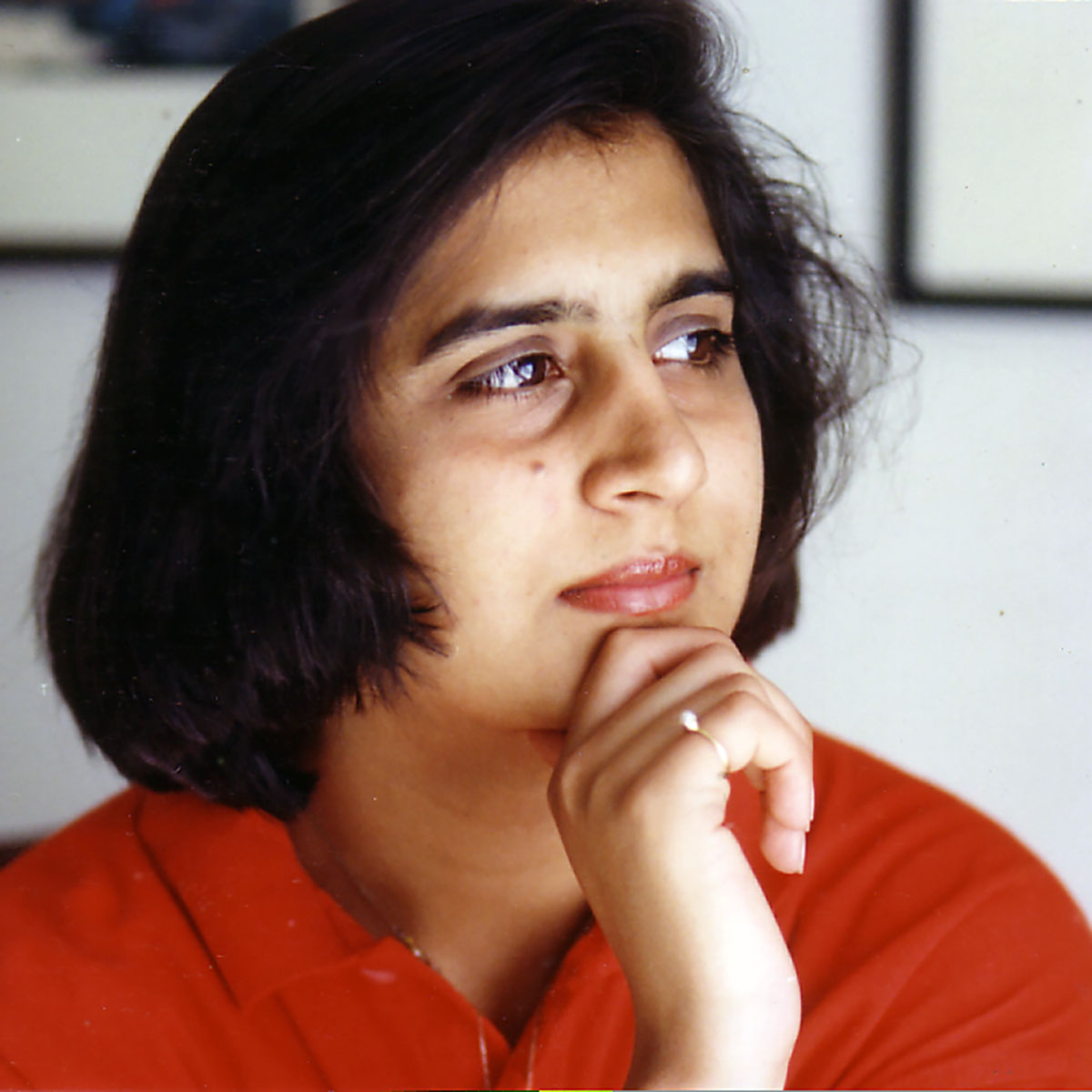 This was the oldest picture I have of Sabeen. It was on her Nana's bedside table. It is now on her Nani's wall. Although she hated having her pictures taken — and shouted at me for 'shooting' her when she was not expecting it — she really liked this one.
Ragni was about five when she became closer to Sabeen,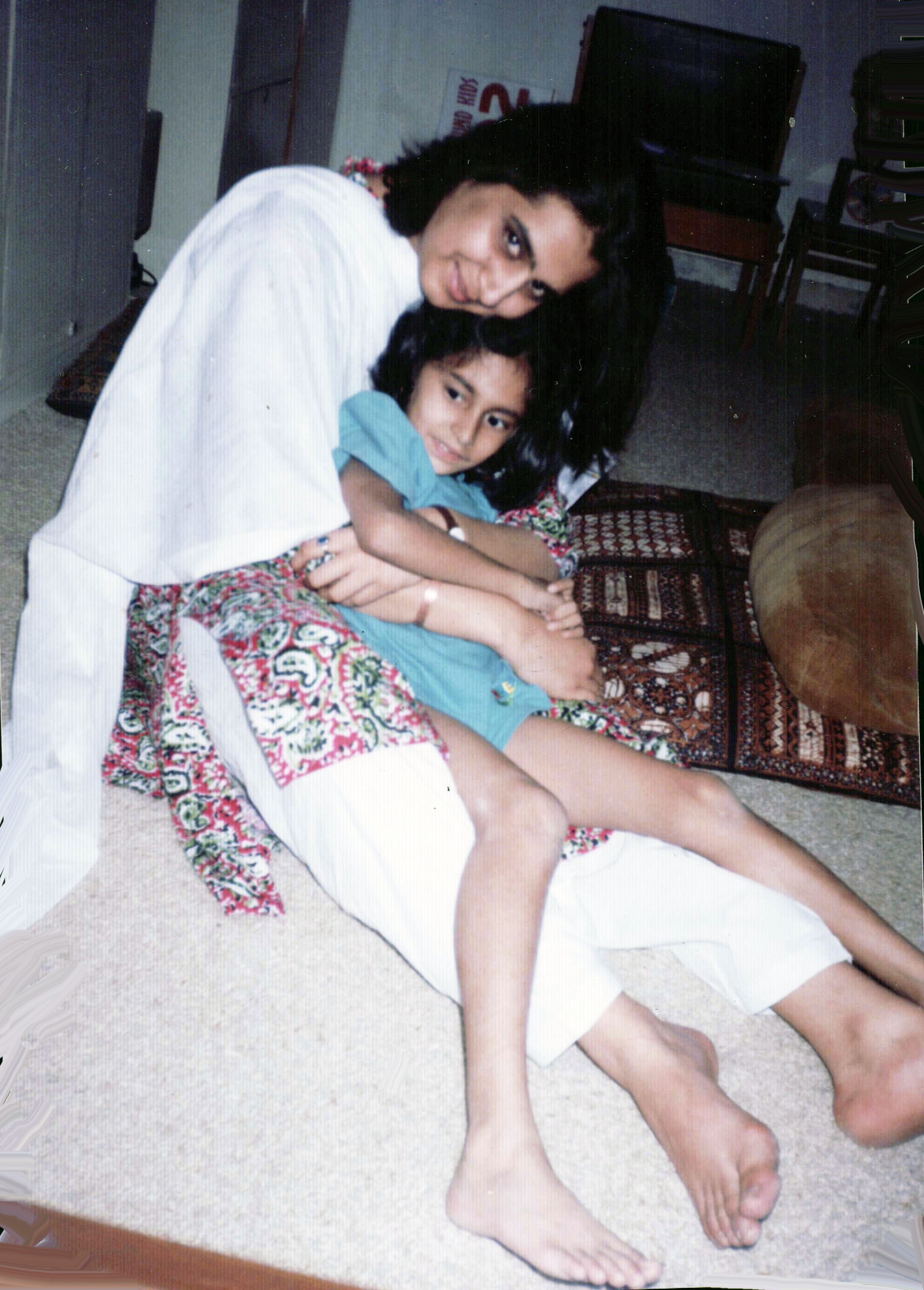 … and a bit of sibling rivalry existed. Ragni felt that I'd laugh at what Sab did, and she tried to do the same things, but at the wrong times. Sab, for example, would get up to go home from our library, but before leaving she'd jump on several cushions, jump down again, and say goodbye and rush off the door. Ragni would see me laugh. A little later, while I was very seriously listening to Classical Music, Ragni would repeat what Sab had done. I'd say, "Ragni, not now, please …". She'd go to Nuzhat and say, sobbingly, "Abi loves it when Sabeen does it, but gets angry when I do it." (Sorry, Ragni. That wasn't planned at all - as you may have thought, then.)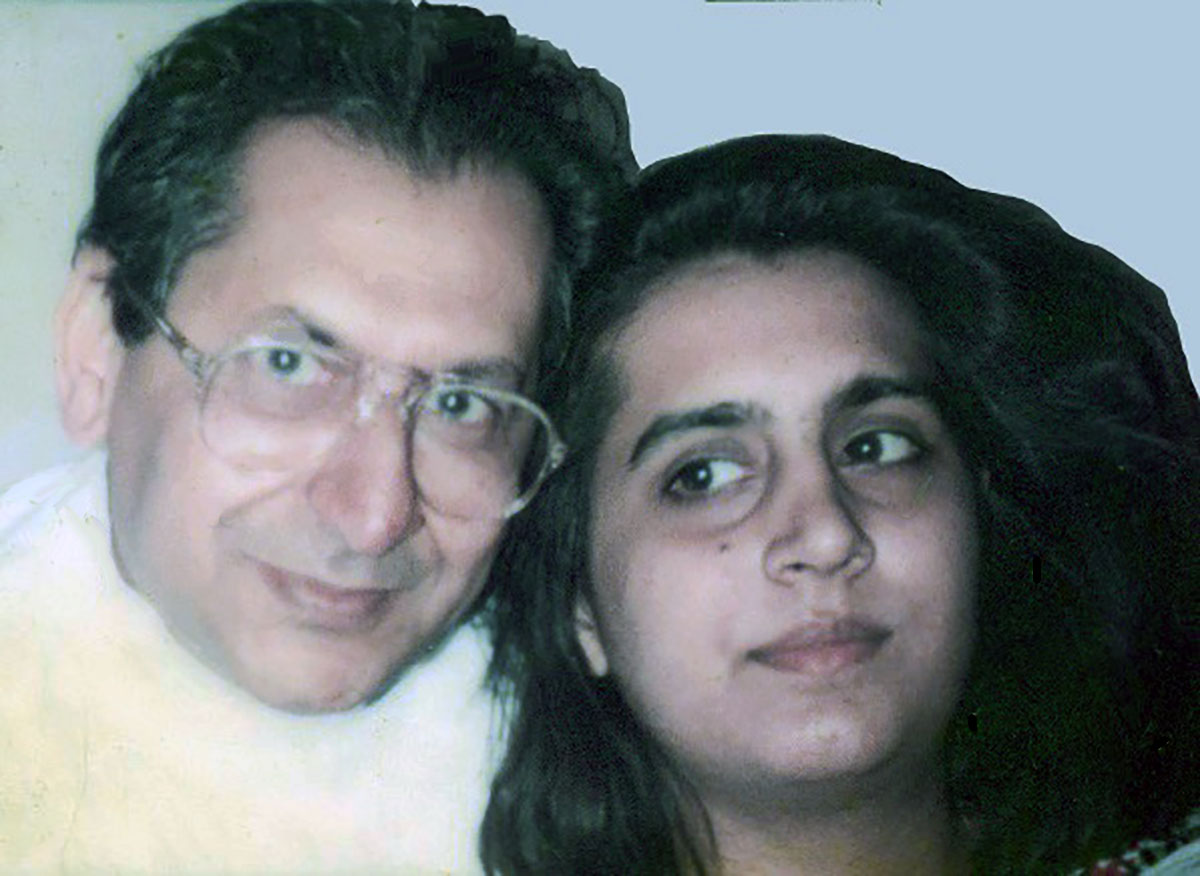 Oldest Picture of Sabeen and Me together
Sabeen soon became like a daughter to me …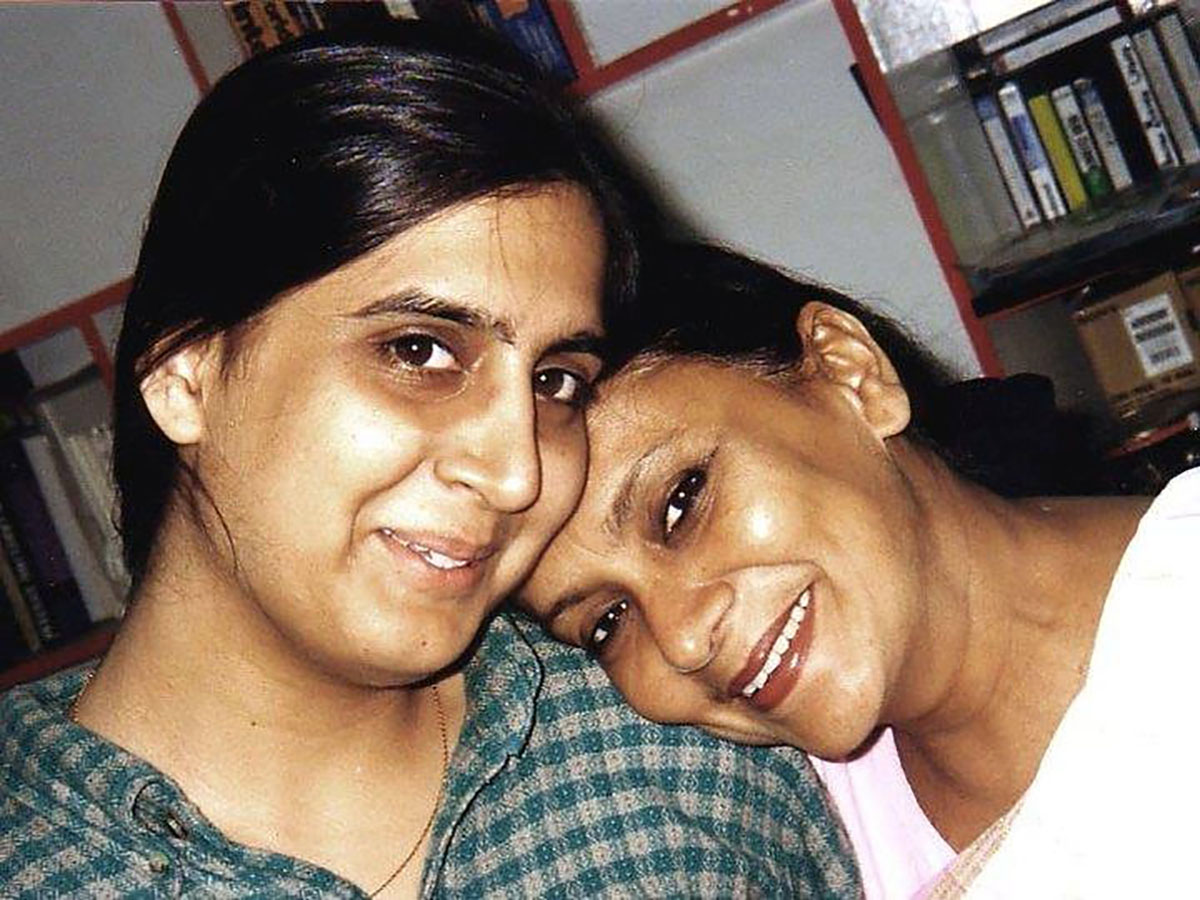 and was followed shortly by being part of our extended family.
Ragni and Sabeen's love developed into a much greater friendship. They'd write to each other often when Sab was at Kinnaird College, Lahore. Here is a piece from Sabeen at that time. (Sab called me Abi, just as Ragni does.)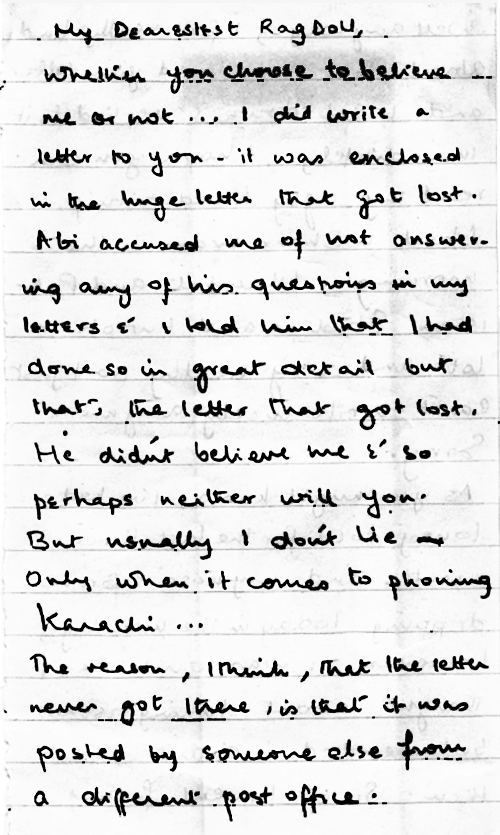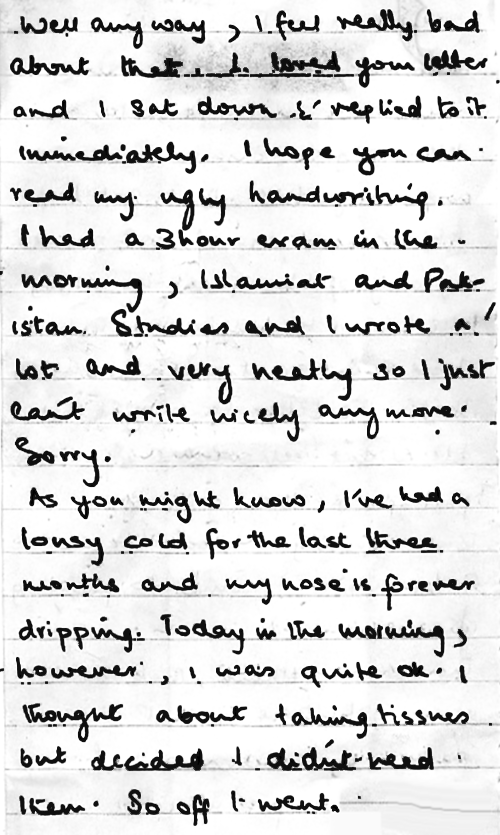 When Sabeen left college she started working with us.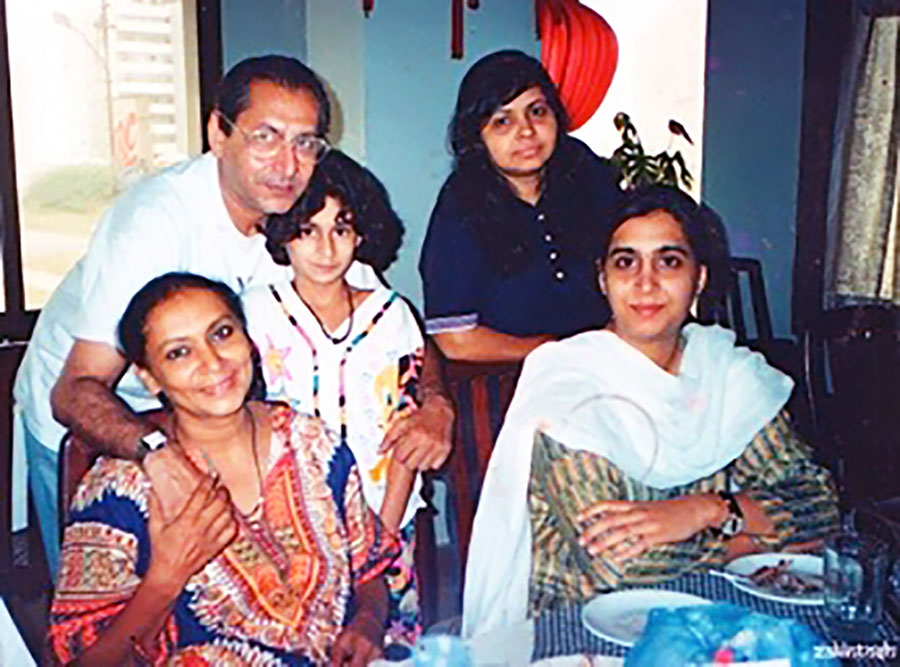 Ragni, Jehan Ara, Nuzhat, and Sabeen, with me.
This was us celebrating my CD-ROM Sabeen had helped make: "Faiz: Aaj Kay Naam". Her love for everything she did always came through. This, though, was her favourite piece, she always said. Hopefully next year I will have put it together again since the old item won't run well on todays Macs and Windows machine.
•••••
Sabeen was 10 years older than Ragni, but Ragni always said Sab was her 'younger sister'. She said to us, "Sabeen arrived in your house after me".
:)
I found this in her photo collection the other day.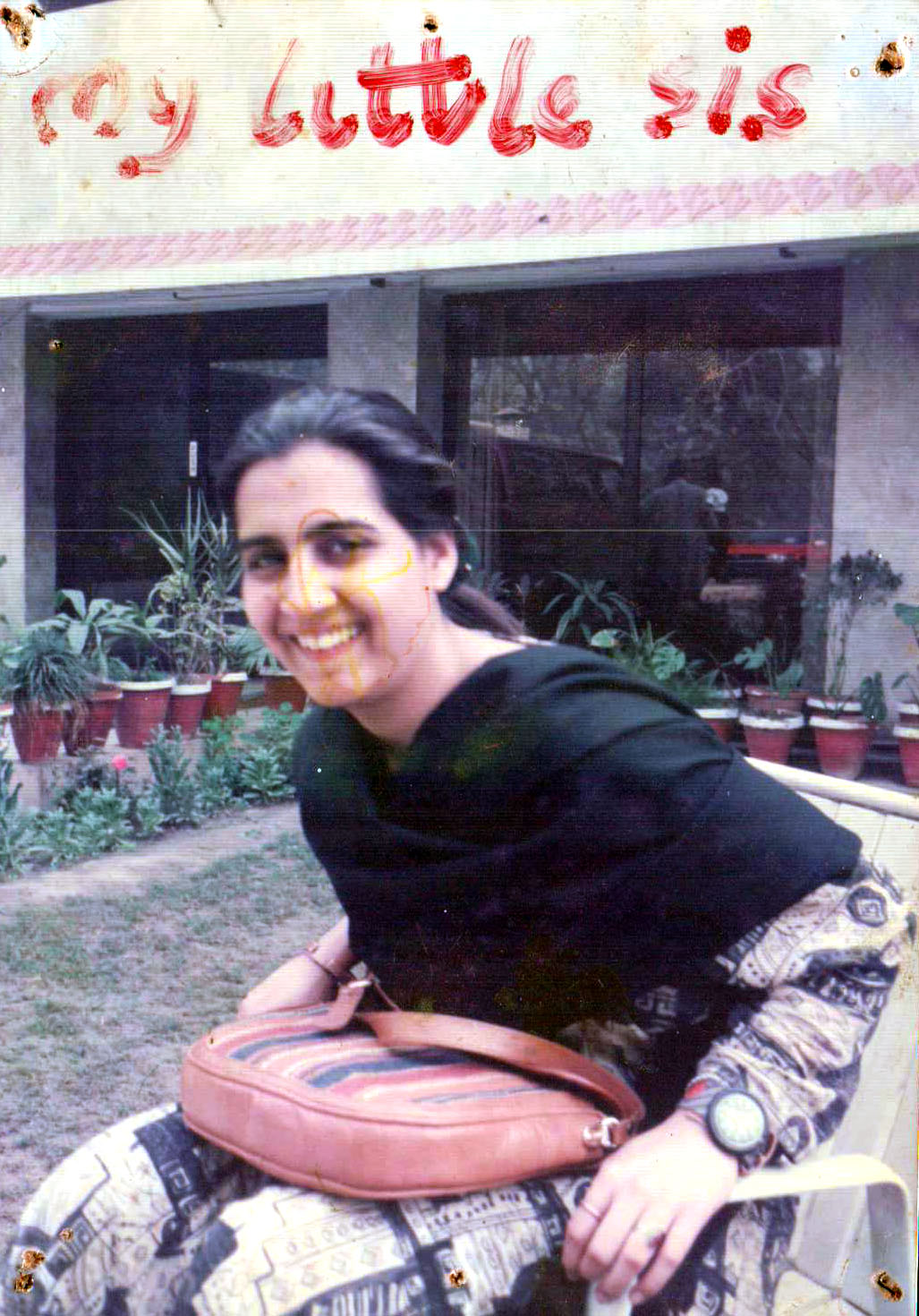 Whenever Sab returned from Lahore on vacations, she'd always come to our house the same day. On Ragni's birthday, we gave Ragni an iBook. Here she is with Sab and me in the Library.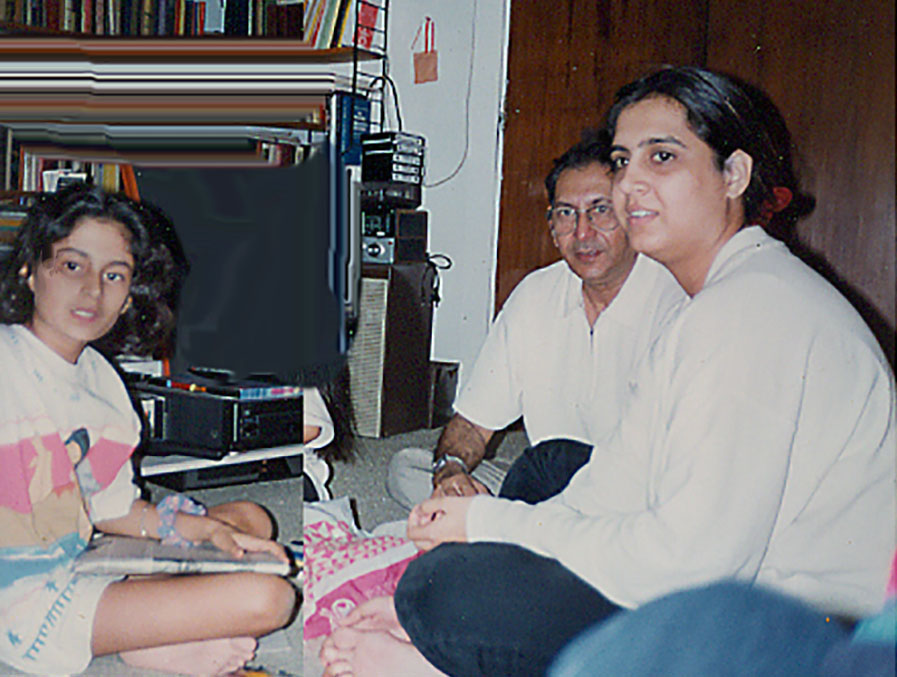 Ragni's days at college, her work, her marriage, and her home, were always things that she spoke to Sabeen about. Much more than I had known. At one time we were trying to get in touch with Ragni on Skype … but she'd say she was busy and would talk later. Two nights later Sabeen came and told me that she'd been having long discussions with Ragni on Skype and we could talk to her now. Hmmm. So it was something Ragni wanted to discuss with Sab but not with us, until she was sure. Ok. That's what sisters are for, I guess.
Sabeen cooked a lovely meal on her birthday and we were there with her and her mother, Mimi (Mahenaz). Ragni was overjoyed at Sab's cooking … specially the desert.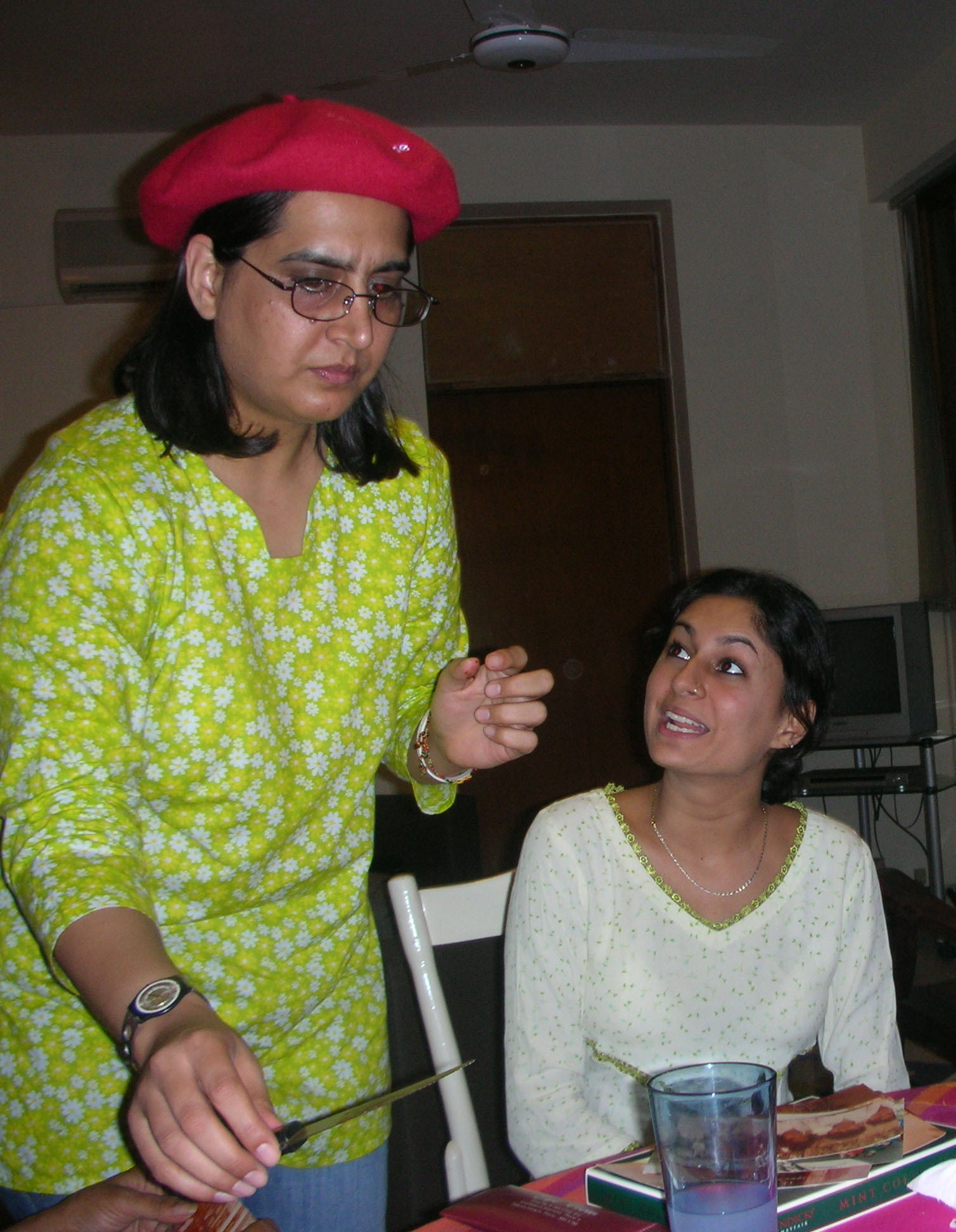 Every time Sabeen went to the USA she'd pay Ragni a visit.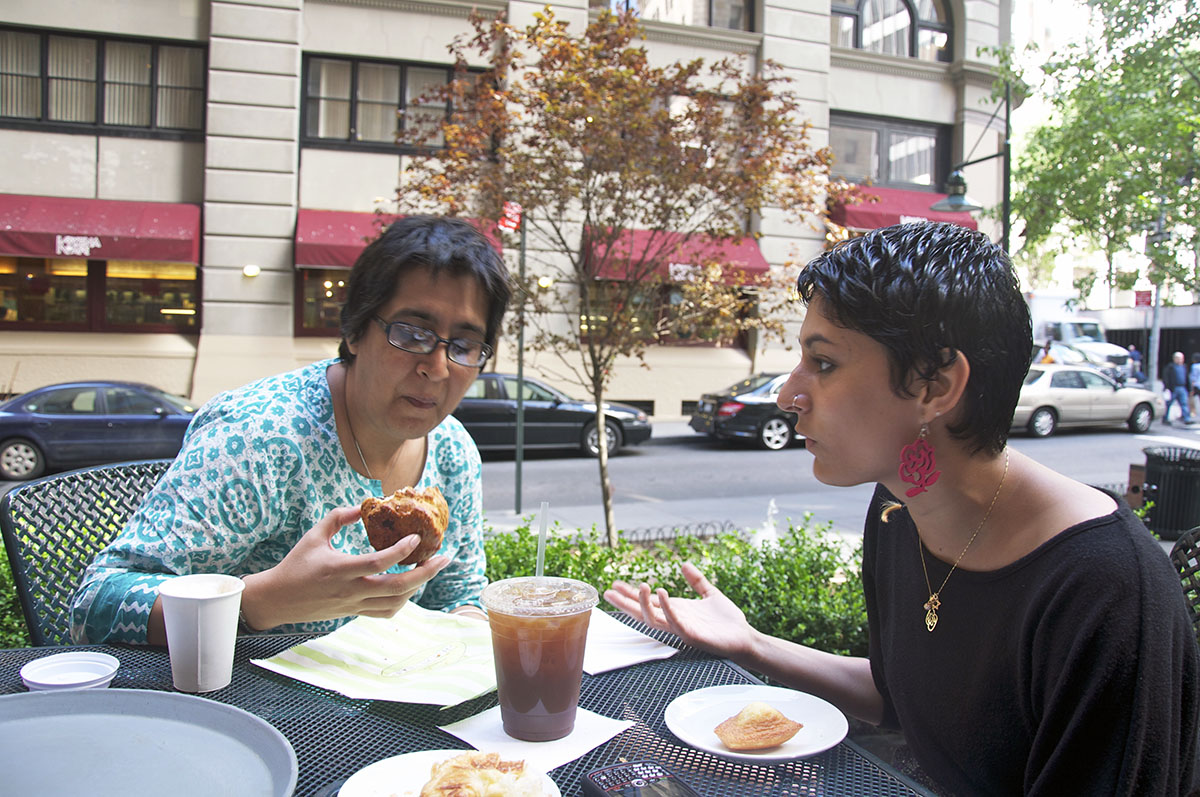 •••••
This was the last pic I got of them together in Karachi.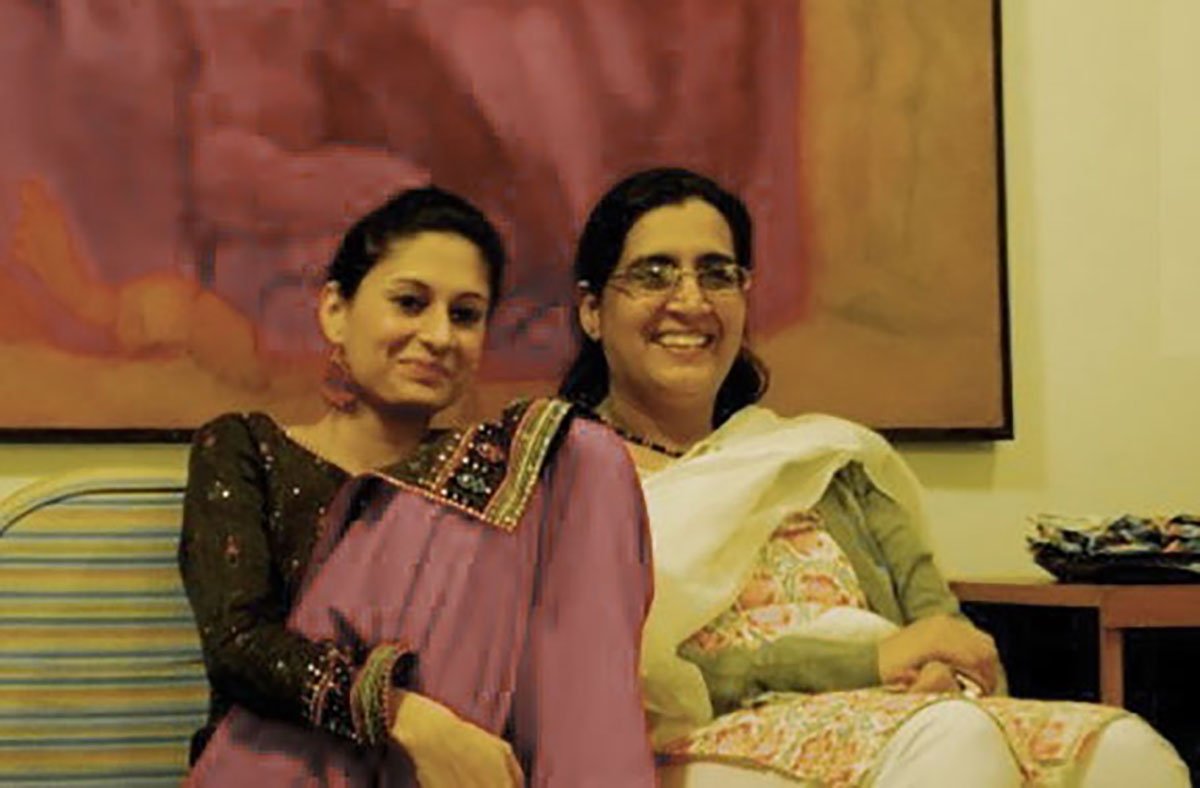 •••••
Six months earlier, on 24th April 2015, Sab was assassinated.
Ragni was, like a lot of us, devastated.
She held a memorial in Brooklyn for Sabeen.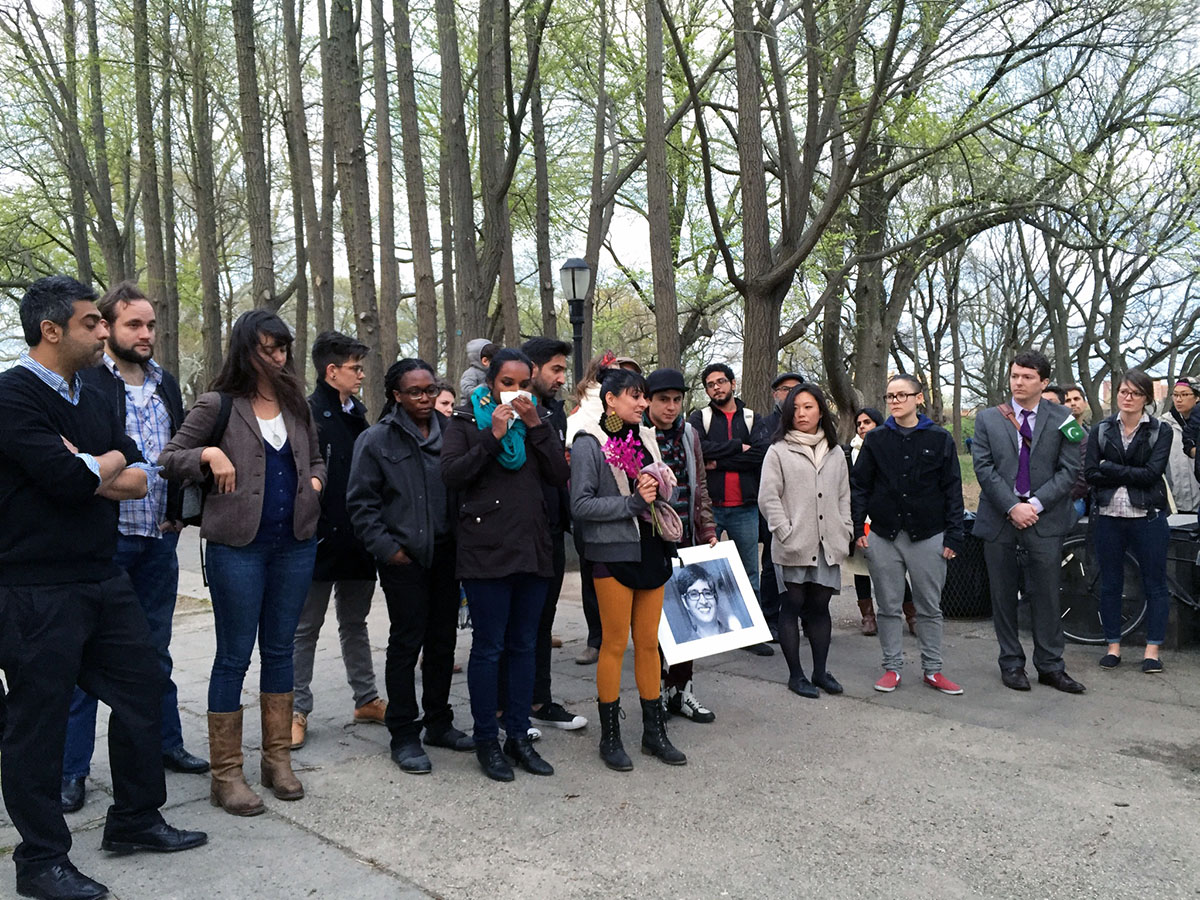 Many of her friends came.
•••••
•••••

… and, dearest Sab, we all miss you more than you'll ever know!